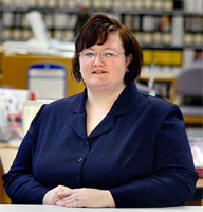 Chris McArdle Rojo, MLS
La Crosse County Library Director
103 State St.
Holmen, WI 54636

608-526-9600, opt. 1


November 2013
It's difficult these days to fundraise in a traditional sense with every organization in the area trying to do the same. But with diminishing budgets and reduced capacity to increase operating funds, the La Crosse County Library with locations in Bangor, Campbell, Holmen, Onalaska and West Salem is no different than any other group working for a part of the same charitable giving pool. For the first time in many years, the La Crosse County Library will move into 2014 with a reduction to our materials budget so our annual Leave a Legacy Fundraiser held just a few weeks ago was especially critical for us this year.

Our 3rd Annual Leave a Legacy was not a disappointment! Once again hosted at our Onalaska location, the event added a new twist this year with an exhibit of local artists which added a new scope to our growing event. We were also so fortunate this year to have Lost Island Wines of Onalaska provide a wide range of beverages for the event. For those who partook, it was a taste testing event in itself and we are so grateful to have created another great business partnership in Onalaska.

In the end, over 75 donors have now made available an additional 289 books at our five locations! The idea of the event is that Library Staff pre-select materials they would like to see added out our locations. Donors choose items and donate the tax deductible cost of the item. In addition, donors can personalize the bookplates to donate the items in memory or in honor of a special family member, friend or even pet! These unique bookplates tell a special story of their own and it's always fascinating to come across them down the road and wonder what that story might be! All 289 items have now been processed and cataloged and sent to their new home locations. We have already had donors return with other family and friends to locate their donations and see their bookplates in print as well as numerous readers enjoy the inscriptions included on each new item.

We continue to look forward to seeing this event grow over time and it provides a unique way to continue to expand our collections through the generosity of the communities we serve. Along with each and every donor this year, the added generosity of donors Margaret Ewert, Dave and Barb Skogen and the great-grandchildren of long-time Onalaska resident Gordon Gullikson, who sadly passed away earlier this year, enable us once again able to call our Leave a Legacy event a success. Of course, it's not too late to help! If you were unable to attend the event, donation cards are still available and tax deduction letters will be provided for year-end contributions.

We are truly humbled by the continued generosity of those who support and utilize our locations and look forward to seeing these newly added materials enhance our services. For more information about the La Crosse County Library or for the latest programming information, be sure to check us out at www.lacrossecountylibrary.org or like us on Facebook at www.facebook.com/lacrossecountylibrary.