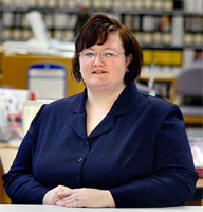 Chris McArdle Rojo, MLS
La Crosse County Library Director
103 State St.
Holmen, WI 54636

608-526-9600, opt. 1


May 2013
I know most of our Staff normally write their weekly columns about adult books, what their currently reading and their favorite authors. We rarely cover all the great children's literature that is out there, but this time of year, most of our focus at the La Crosse County Library with locations in Bangor, Campbell, Holmen, Onalaska and West Salem turns to kids any way!
We're now just weeks away from the kick-off of the 2013 Dragon Quest Summer Library program so staff is busy spending each spare moment prepping materials and programming for what looks like a spectacular summer!

This time of year I also have the great pleasure to share a Saturday morning with a children's author or two and over 250 aspiring area authors! I am fortunate to work closely each year with our partners in literacy in area school districts. The phenomenal members of the Midwest Wisconsin Reading Council hosts a number of events throughout the year and each spring they bring to UW-L a Young Author's Conference.
Area schools each have their own process for selecting authors to attend the event, but it brings together some amazing young people grades K-8 for a morning of sharing and encouragement. Who knows who is sitting among them each year! Maybe in another decade we'll be anxiously awaiting one of their next masterpieces!

This year's conference brought to town a great set of collaborators! Wisconsin authors, poets and photographers, Lynne Smith Diebel and Jann Faust Kalscheur were cheered by a fascinated audience of letter hunters! Lynne and Jann's ABCs Naturally guides readers through nature to find the alphabet! Each letter in the book features an object photographed in the outdoors. The book also includes fun facts and folklore on each of the letters. Lynne and Jann gave tips on becoming alphabet hunters and encouraged our young authors to explore their own backyards and the treasures of the coulee region to inspire their own hunts and their own creative processes for writing.

We are truly fortunate that the Midwest Wisconsin Reading Council makes this event possible each year and even more fortunate to have such amazing authors joins us. Not only did Lynne and Jann provide a specially autographed copy of their ABCs Naturally for La Crosse County Library readers, but they also created a special personalized gift for us with a wild alphabet "LACROSSE"! Visit our Onalaska location to see this unique lettering on display!
For more information about Lynne and Jann or for your own wild alphabet word or name visit their website at www.abcsnaturally.com.

For more information on our 2013 Dragon Quest, check out the Youth Servcies tab at the top of this page or stop in your favorite location for the latest information.